在恶劣环境下和关键任务应用中可靠的解决方案
| | |
| --- | --- |
| New Line of AdvantiX (Powered by Fastwel) PPC-FN2 Panel PCs | |
New Line of AdvantiX (Powered by Fastwel) PPC-FN2 Panel PCs
13.07.2020

Advantix (powered by Fastwel) has updated the line of industrial panel computers PPC-FN2. The new series of fanless computers with a screen from 10" to 18" is distinguished by the use of a more recent generation of Intel Apollo Lake processors, increased screen protection against dust and water, as well as a wide selection of interfaces.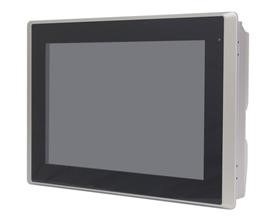 The new PPC-FN2 series is represented by four models: PPC-10FN2, PPC-12FN2, PPC-15FN2 and PPC-17FN2 with screen sizes from 10" to 18", respectively. All devices within this series are fanless and come in a stylish aluminum enclosure with IP66 protection against dust and water on the front panel, which enables them to be installed in dusty areas and to be operated under complex environmental conditions.
In the PPC-FN2 series, resistive displays are used, which are characterized by maximum resistance to contamination and at the same time relatively low cost. However, if necessary, Advantix can also supply panel computers with capacitive displays.
The computers are equipped with power-efficient quad-core Intel Pentium N4200 CPUs of the Apollo Lake family, and optional modifications with dual-core Intel Celeron N3350 CPUs are available. A wide range of I/O ports are available on the rear panel for all models of the series: 2 x USB 3.0 ports, 2 x RJ45 network ports, 1 x RS-232/422/485 serial port and 1 x RS-232, 1 x audio output. Optionally, you can add 2 x more RS-232/422/485 serial ports, 2 x USB 2.0 ports, and an internal battery.
The new Advantix (powered by Fastwel) series of industrial panel computers is powered by a DC power supply source with an extended range of power supply voltages from 9 to 36 V.