在恶劣环境下和关键任务应用中可靠的解决方案
| | |
| --- | --- |
| 3U CPCI Audio / Video Input Module | |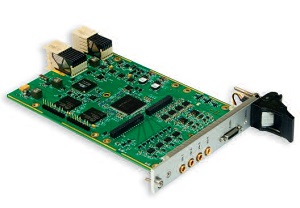 3U CPCI Audio / Video Input Module
VIM554
• Form-factor: PICMG CPCI-S.0 R1.0 CompactPCI® Serial Specification 3U;
• System bus: PCI Express x4;
• LED-indication of module's operation modes;
• Power supply: Supplying voltage: +12.0 V, consumed current: no more than 0.8 A;
• Vibration resistance: 5g;
• Single/multiple shock resistance: 100g/50g;
• Dimensions: No more than 130.5 mm х 213.0 mm х 20.32 mm (WxDxH);
• Weight: VIM554-01-R1: 320 g, VIM554-02-R1: 380 g;
• Operating temperature range: Industrial version: from –40°C to +85°C;
• MTBF: 100 000 hours;
• OS: Windows 7 (Embedded) 32/64 bit; Linux 3.2.0.

Sales & technical support
VIM554 Audio/Video Input Module is implemented in CPCI-S.0 3U standard with support of rear I/O modules. The module is designed for reception of standard definition analog video signals (SDTV) and voice audio signals, their conversion to digital form and their entry into PC system memory.
VIM554-01-R1-I

4x audio (mono) and 4x video hannels, Weight: no more than 320 g;

VIM554-02-R1-I

8x audio (mono) and 8x video channels, Weight: no more than 380 g.

Conformal coating.
Fields marked with symbol "*" are required to send the request to Support.